Product Description
Here is our new norwegian split toe blucher made in our most demanded HIRO last! Featuring a pie crust apron stitching. Many hours are needed to produce a so delicate stitching, that just the master craftsmen can achieve, but it is trully worth the result!

The Novonappa calf is our newest addition to our Collection, a beautiful double tanned French calf, which is considered to be the one best calf available.

It is exclusively sourced from Tanneries Haas in the beautiful region de l'Alsace in France. This leather is entirely full grain and made with traditional Alsatian tanning techniques. The leather is through-dyed, double tanned (chrome tanned & vegetable re-tanned with a blend of chestnut, quebracho & mimosa) and hot stuffed with a mix of greases to nourish the leather, which provide the leather its distinctive, beautiful & rich glow, mellow touch & exceptional softness. Its distictive grain & natural finish (achieved thanks to the veg-tanning) allow the development of a beautiful & aggressive patina that will make every single pair unique & interesting over the time.

To produce this stunning leather only A-grade selection skins can be used, and so less than thirty percent of the skins that come to the tannery are suitable for the Novonappa production.

A very special & true luxurious leather, perfect to be used either lined or unlined, for the ultimate suppleness & comfort.

Meermin shoes are made using French full grain calf from some of the best tanneries in Europe. Our shoes & boots are Goodyear Welted following traditional techniques by skillful artisans. This shoes are made to last and to just get better looking & more confortable over the time. these pair of NST´s is fully leather lined & made using full grain vegetable tanned leather insoles.

Goodyear welted on our round classic HIRO last, that is perfectly balanced for the split toe style. Finished with a double rubber sole.

NOTE: Because of the vegetable retan, oils & waxes & fats used in the tannage, this leather might 'bloom' meaning that a white layer of wax might appear on the surface of the leather. No need to worry at all, this can be easily removed with a soft brush and you'll be good to go!

Specification
Construction
Goodyear welted
Upper leather
Novonappa
Tannery
Haas (france)
Last
Hiro
Uk fitting
E (medium)
Sole
Double studded rubber
Lining
Full grain calf
Insole
Vegetable tanned leather
Hiro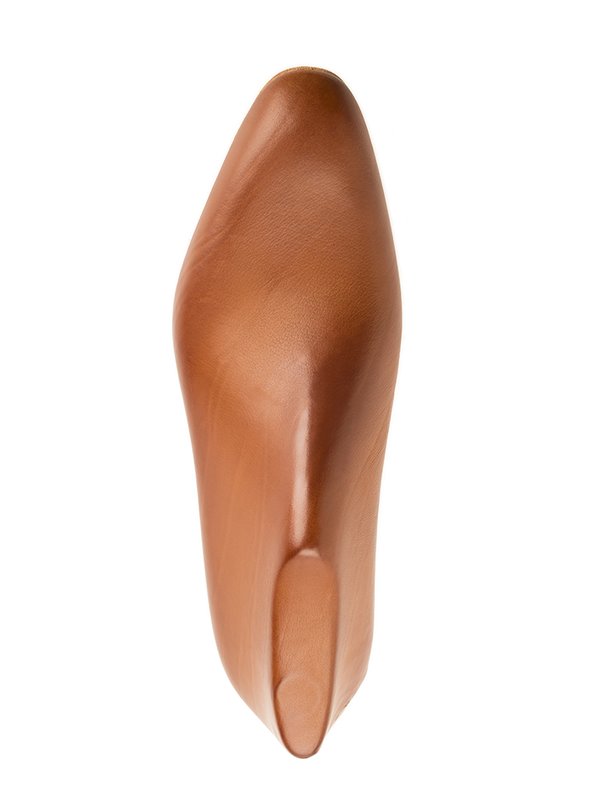 Our Classic round last, one of our most popular & versatile ones. A very well proportioned shape, not too long, not too short, just spot on. The HIRO last fits greatly oxford, boots & monk styles.True to UK size & features a UK E Medium fitting. Slightly wider heel with a regular to low instep & classic round toed shape. One of our most demanded lasts. A few styles also available in an extra wide G-Fit.
Note: All Meermin Shoes are UK Sized. Take 1 full size down from your US size.
Hiro Last Measurements:
| | | | |
| --- | --- | --- | --- |
| UK Size | Insole Width | Insole Width | Ball Girth |
| | | | |
| | | | |
| | | | |
| | | | |
| | | | |
| | | | |
| | | | |
| | | | |
| | | | |
| | | | |
| | | | |
| | | | |
| | | | |
| | | | |
| | | | |
| | | | |
| | | | |
| | | | |
| | | | |
| | | | |
---
Size Guide Men
Please note that all our shoes & boots are UK sized. Below you'll find the men's specific size chart:
---
Can I use my sneaker's size as a reference?
Goodyear Welted shoes & sneakers are made & fit quite differently. Sneaker fit is quite forgiving, whereas in a Goodyear Welted pair of shoes you'd like to have a close and adjusted feel in order to have the best and most comfortable fit.
Said that, better to compare with another pair of Goodyear Welted or dress shoes you have or have tried before.
What do you recommend if I am in between sizes?
If you're in between sizes, size up. Too tight shoes will end up resulting uncomfortable or not wearable.
Do your lasts fit all the same?
No they don't. Said that, most of our lasts are UK E width (medium/regular fit) and you most likely will be wearing the same size across many of them.
We recommend checking our Lasts page for a more detailed description of each of the lasts we currently have in production.
I wear a special size, can you produce a pair for me?
Sure! Most of our ready to wear production goes from size 6UK to 12UK, but if you happen to wear a smaller or larger size, we can definitely help & specially make any pair from our collection for you. Please do contact our CX Team, we'll be delighted to assist you.
I wear orthotics—Can I remove the insoles?
The answer is no, but there are a few exceptions. The leather insole is a structural part of our shoes/boots, is where the Welt & uppers are stitched through the welting process, and so it cannot be removed.
Said that, there is one exception, which is our Ultraflex System construction, which aside from the structural leather insole also comes with an additional memory foam insole on top of it. This memory foam insole can be removed easily.
---