Product Description
A take on the classic penny loafer but slightly updated to be more comfortable than ever! First we removed the shoes structure and interior lining, this allows for greater breathability and flexibility. Perfect to keep your feet cool and comfortable for the spring and summer months ahead! Next we took the idea further and made our insoles slightly thinner, this removes some of the overall weight of the shoe. These small but purposeful changes allow for a lightweight, flexible, and comfortable, Goodyear welted shoe that will instantly become a staple in your wardrobe!

Made in elgant RON last with a beautiful top waxy kudu, from CF STEAD(UK) A truly luxurious and enjoyable experience. This is partially possible by the new insole used, the same top quality vegetable tanned leather we use in all of our shoes but has been made slightly thinner, this allows for a lighter overall feel, better insulation on warmer days, and a shorter break in period. Over time the personal contours of your foot will give it a truly unique fit.

The Waxy Kudu leather is a special one—waxed antelope leather from Southern regions of Africa. A striking & very unique leather which features all the natural blemishes, marks and scratches of a wild antelope that lived in the bushes. Blemishes & cuts are part of the interest of this leather and will be used on the production of the uppers.

Please note that this leather does not look like smooth French calfskin at all, is a very rugged, mellow & very unique Antelope leather which accepts scars & marks as part of the uniqueness—which make every single pair truly unique.

Goodyear welted just as all of our shoes are. This extremely comfortable and flexible shoe was made by possible by the removal of the shoes interior lining and upper reinforcement you normally see in these types of shoes. This allows the shoe to conform to your foot nicely, you'll be surprised by how soft and gentle the underside of the leather as it keeps your feet feeling comfortable all day.
Specification
Construction
Flex goodyear welted
Upper leather
Waxy kudu
Tannery
C f stead (uk)
Last
Ron
Uk fitting
E (medium)
Sole
Single leather
Lining
Unlined
Insole
Vegetable tanned leather
Waxy kudu
Tannery: Charles F. Stead
Country: UK
Substance: 2mm
Finish: Waxed
Waxy Kudu leather is a truly unique and very special one—Made using antelope leather from Southern regions of Africa. A striking & very unique waxed leather which features all the natural blemishes, scars and scratches of a wild antelope that lived in the bushes. Blemishes & cuts are part of the interest of this leather and are be used on the production of the uppers, making every single pair truly unique. Exclusively sourced from the renowned suedemaker C F Stead Tannery in Leeds, UK, which is often considered to be the best in its class.
Waxy Kudu is a thick, extremely soft and yet very durable leather. It is a true pleasure to wear and see age over time, developing an incredible patina, aside from getting more and more comfortable over the time.
As with any leather, you'll want to prevent it from drying out, and in this specific case we do recommend to keep the Waxy Kudu nourished & waterproofed with an occasional maintenance with our Dubbin Wax from Famaco or even Famaco's Renovateur, for a lighter protection.
Definitely the perfect boot leather.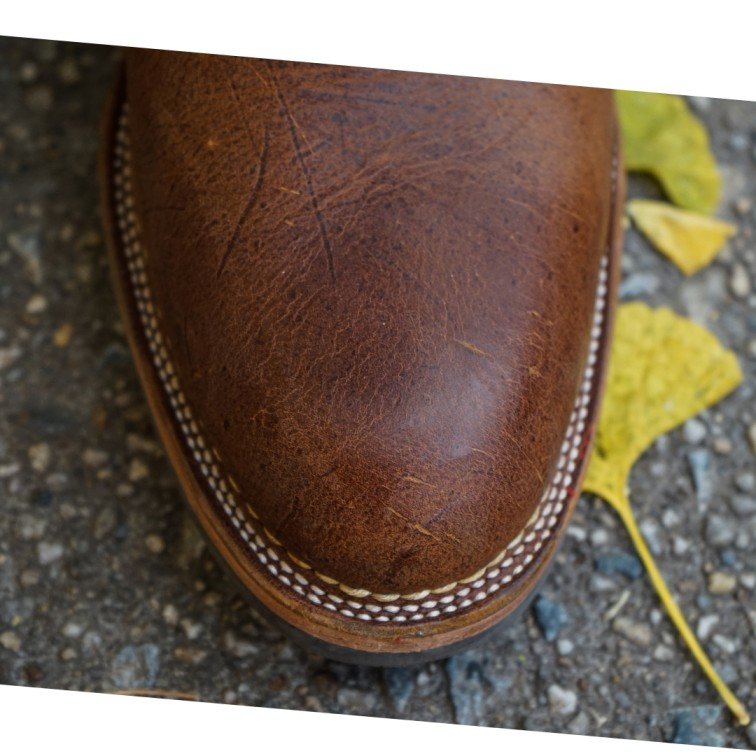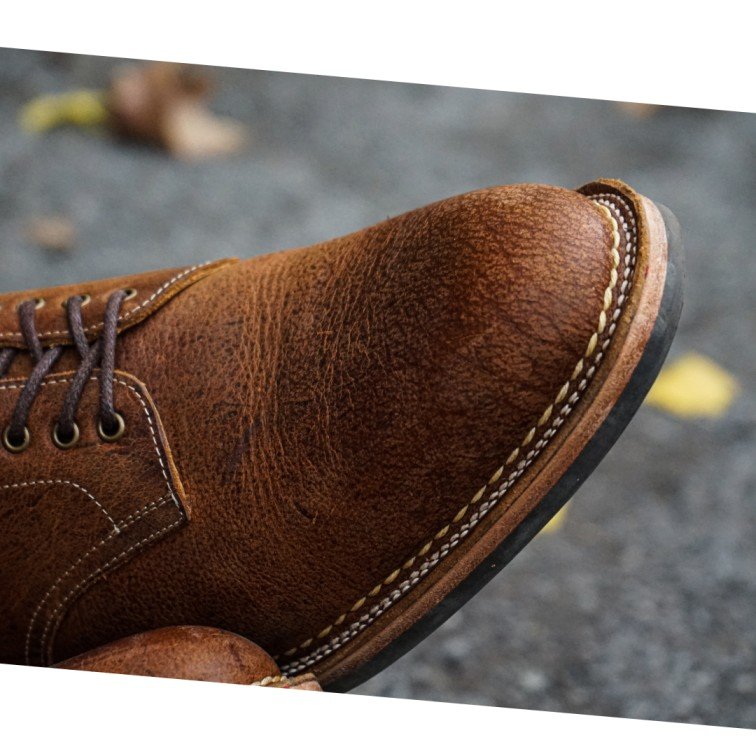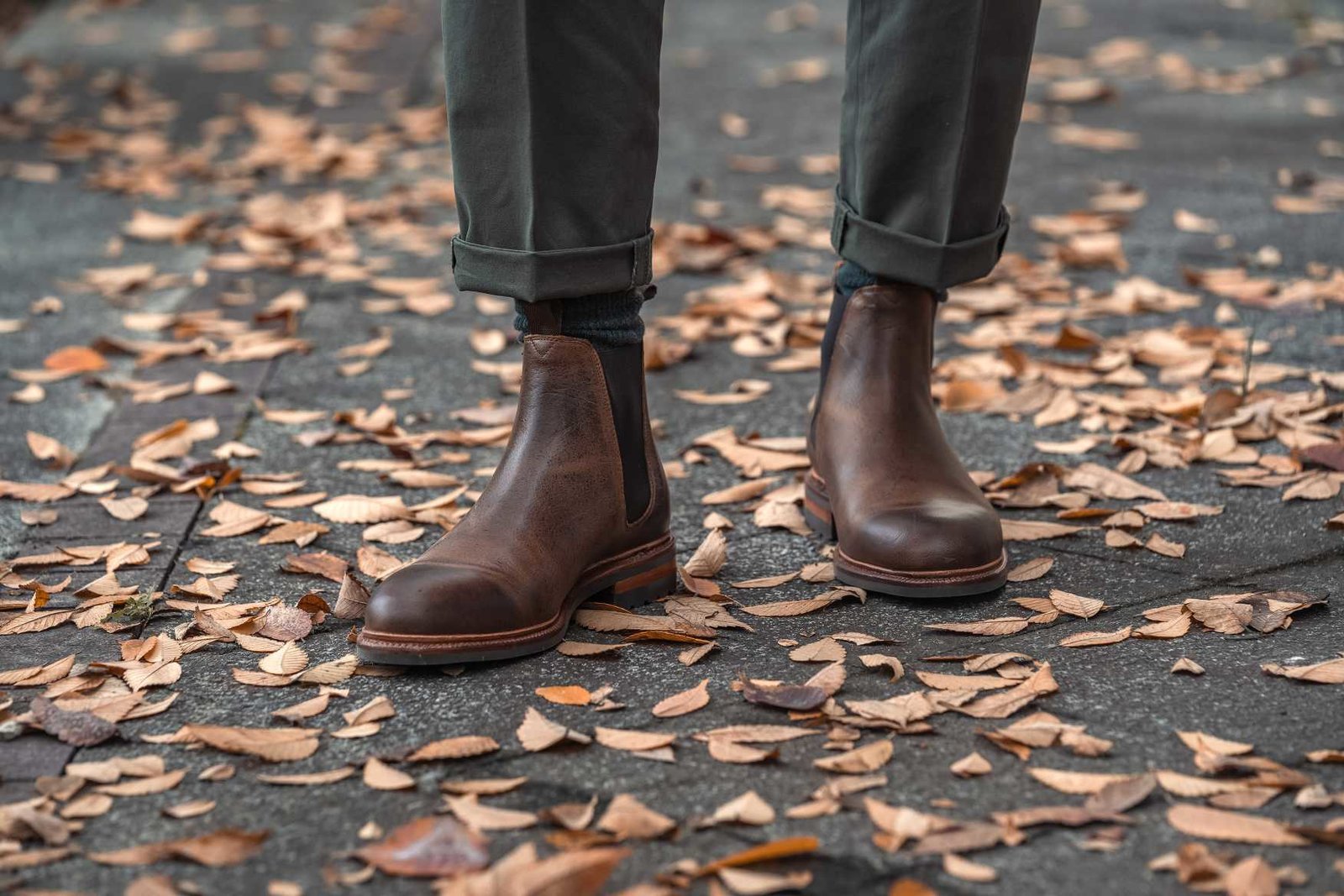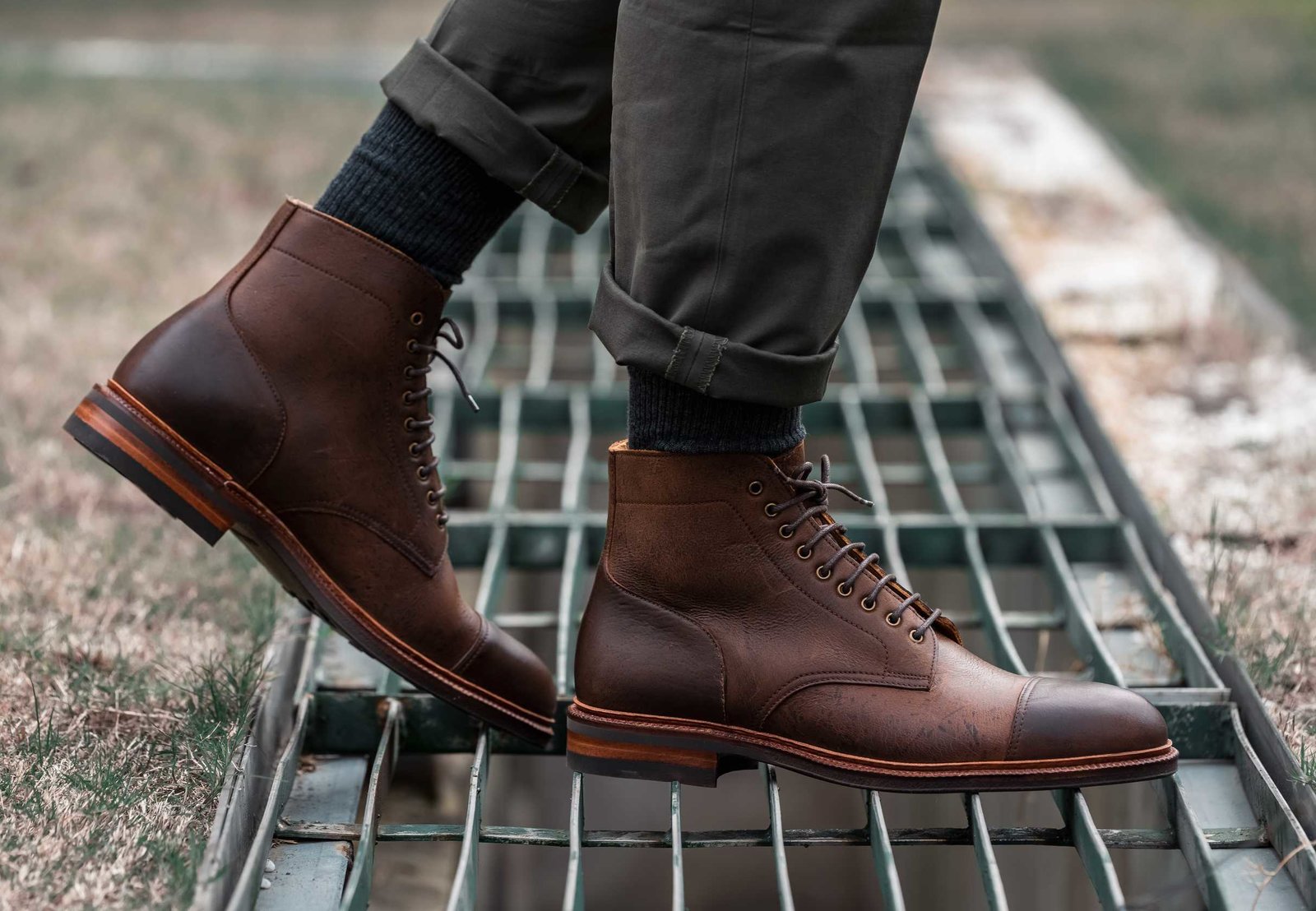 Size Guide Men
Please note that all our shoes & boots are UK sized. Below you'll find the men's specific size chart:
---
Can I use my sneaker's size as a reference?
Goodyear Welted shoes & sneakers are made & fit quite differently. Sneaker fit is quite forgiving, whereas in a Goodyear Welted pair of shoes you'd like to have a close and adjusted feel in order to have the best and most comfortable fit.
Said that, better to compare with another pair of Goodyear Welted or dress shoes you have or have tried before.
What do you recommend if I am in between sizes?
If you're in between sizes, size up. Too tight shoes will end up resulting uncomfortable or not wearable.
Do your lasts fit all the same?
No they don't. Said that, most of our lasts are UK E width (medium/regular fit) and you most likely will be wearing the same size across many of them.
We recommend checking our Lasts page for a more detailed description of each of the lasts we currently have in production.
I wear a special size, can you produce a pair for me?
Sure! Most of our ready to wear production goes from size 6UK to 12UK, but if you happen to wear a smaller or larger size, we can definitely help & specially make any pair from our collection for you. Please do contact our CX Team, we'll be delighted to assist you.
I wear orthotics—Can I remove the insoles?
The answer is no, but there are a few exceptions. The leather insole is a structural part of our shoes/boots, is where the Welt & uppers are stitched through the welting process, and so it cannot be removed.
Said that, there is one exception, which is our Ultraflex System construction, which aside from the structural leather insole also comes with an additional memory foam insole on top of it. This memory foam insole can be removed easily.
---